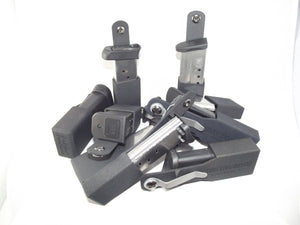 Maximizing Performance with Smaller Defensive Handguns by Mike Boyle
"A few months ago, I obtained a Concealed Carry Mag Pouch from ExtraCarry™. This innovative pouch is designed to harbor a magazine in the pocket and is secured to the pants pocket by an unassuming clip likely to be mistaken for a pocket knife. The pouch from ExtraCarry will keep that spare magazine handy for a quick reload while keeping it clear of coins, lint and other pocket detritus."
Read Full Article in Police and Security News
Mike Boyle Bio - Captain Mike Boyle served with the New Jersey Division of Fish & Wildlife, Bureau of Law Enforcement, and has been an active firearms instructor for more than 30 years. He has been an assistant police academy director and remains active as an academy rangemaster and instructor. Mike has served on the Board of Directors of the International Association of Law Enforcement Firearms Instructors (IALEFI) since 1996. He is the architect and coordinator of IALEFI's Master Instructor Development Program.