Post: How Do I Carry Spare Ammo for My Hellcat? Specialized Mag Pouches
Link: How Do I Carry Spare Ammo for My Hellcat? Specialized Mag Pouches
Author: By Andy Grossman
Andy - Thank you for taking the time to review the ExtraCarry Mag Pouch Product Line-up for the Springfield Hellcat.
Concealed carrying daily requires preparation, planning, and a few compromises. One of those challenges is what size gun you can carry. I know I want to have as many rounds as possible to help ensure victory if I ever find myself in an unavoidable fight for my life.
Sure, my full-size XD-M Elite will hold 22+1 rounds, but it's big and therefore more tough to carry and keep concealed. So normally I grab my Hellcat instead. It's small and compact and still can carry 16 rounds with the 15-round magazine and one in the chamber. Still, is 16 rounds enough? Hell, is 23 rounds even enough?
Recently, there was an officer-involved shooting about 20 miles from my home. During that shooting, the officer was rushed by a suspect with two knives. The suspect had just stabbed a guy at a gas station and was on the run. He came running out of his car trying to kill the officer. She was able to draw and put rounds on target while trying to create distance from the attacker who just kept coming at her.
Her service pistol held 17 rounds; she shot all of them, cleared a jam plus reloaded another 17-round magazine. She ended up firing 26 rounds total with 19 hits. The suspect died on the scene. I know the keyboard operators will say that she shouldn't have been missing any, but in the real world, you may miss.
She was moving, getting stabbed and cut, and under extreme stress with an insane amount of adrenaline pumping. Most people would have probably missed in a similar situation. Therefore, I always carry an extra magazine on me as I want as many rounds as possible available. There is nothing wrong with having more than you might need, just in case.
A New Approach
At least one extra magazine should be a vital part of your EDC kit. However, sometimes it is not easy to add it because it means you're adding another bulky carrier and more weight on your belt. I have tried every mag pouch and holster and the market and just couldn't find something that worked well for my needs — that is, until I discovered ExtraCarry Mag Pouches.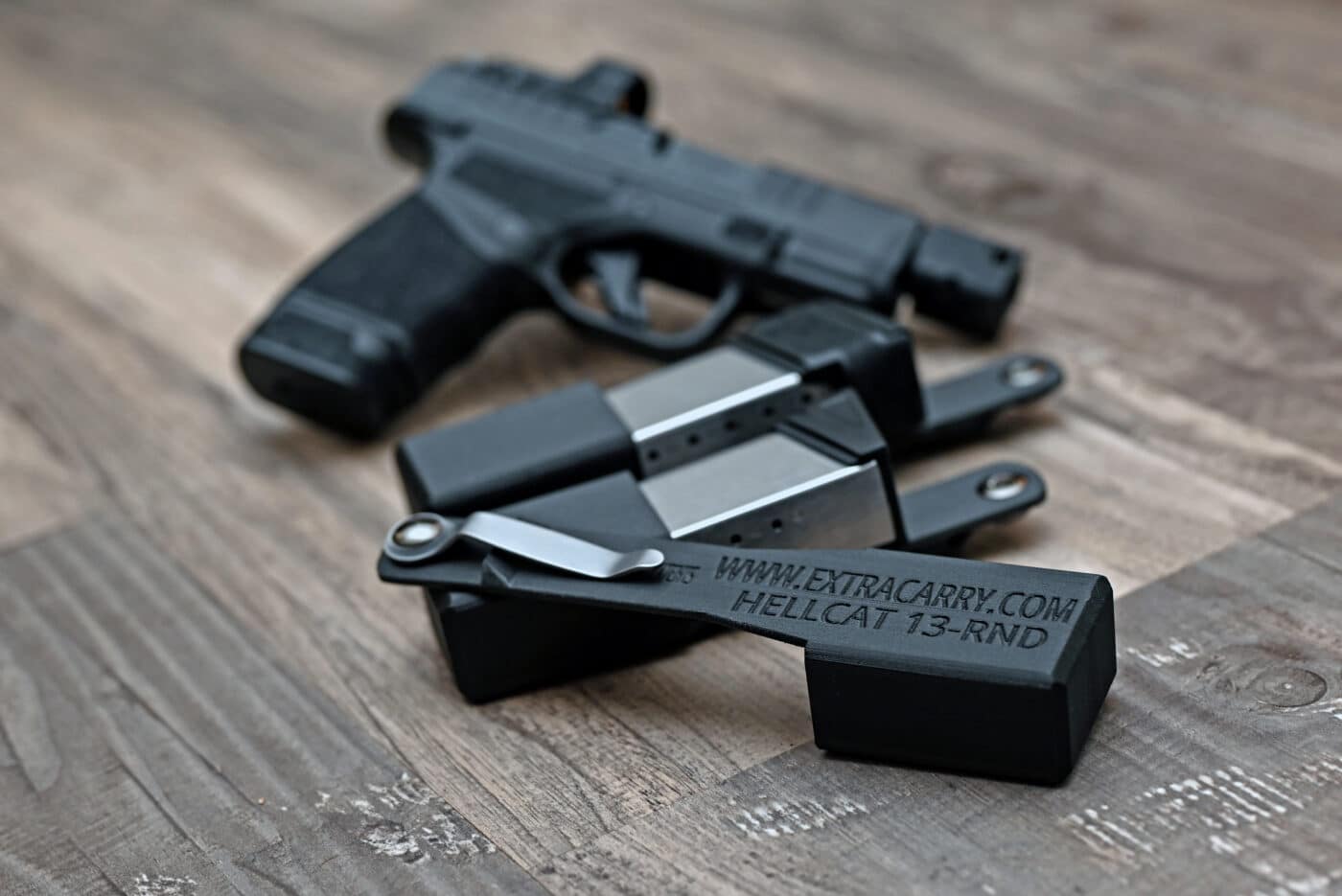 Practically all magazine pouches have the same idea. They clip on your belt or attach onto your holster. This company changed all that by putting the extra magazine in your pocket and concealing it right out in the open, pretty much. Instead of trying to hide their Mag Pouch, they made it look like a regular pocketknife clipped in your pocket.
The Mag Pouch is made from carbon fiber-reinforced nylon, which is very lightweight and strong. The patented locking design holds onto your pocket tightly and will not come off unless you want it too. The ExtraCarry Mag Pouches are completely ambidextrous, making them perfect for either right or left pocket carry. The design is simple and effective making carrying an extra magazine easier than ever before.
Hellcat Options
The company offers firearm-specific pouches that are precision-fit to your exact magazine. In fact, they offer specific models to fit the 10- or 11-round mags, the longer 13-rounders and also the extended 15-rounders.
I picked them up for all of my Hellcat magazines, so I have some options. I can carry my 11-round magazine in my gun if I need the extra concealability and have my 15-round magazine in my ExtraCarry pouch, giving me a total of 26 rounds with the one in the chamber. Or, if I have looser clothing that offers a little more concealability, I can carry my 15-round magazine in the gun with my 13-round magazine in my magazine pouch giving me 29 rounds total.
The pouch looks exactly like a pocketknife in your pocket and holds the magazines tightly while still allowing a very easy draw out of the pocket for reloads. The design also makes it nearly impossible for debris to fall into the magazine, and it protects your first round from damage in your pocket.
Real-World Use
I have been using the pouches for about a month at the time of writing this and have fallen in love with the design and function. Daily carry of an extra magazine has never been easier. I also picked up one of the new Universal 9mm pouches from ExtraCarry. This thing is amazing because I can simply adjust it from single stack 9mm mags to double-stack mags by just loosening three screws. This product offers the addition of a fully adjustable backstrap to accommodate longer magazines and even has retention built into the holster portion to ensure a snug fit on all of your 9mm magazines.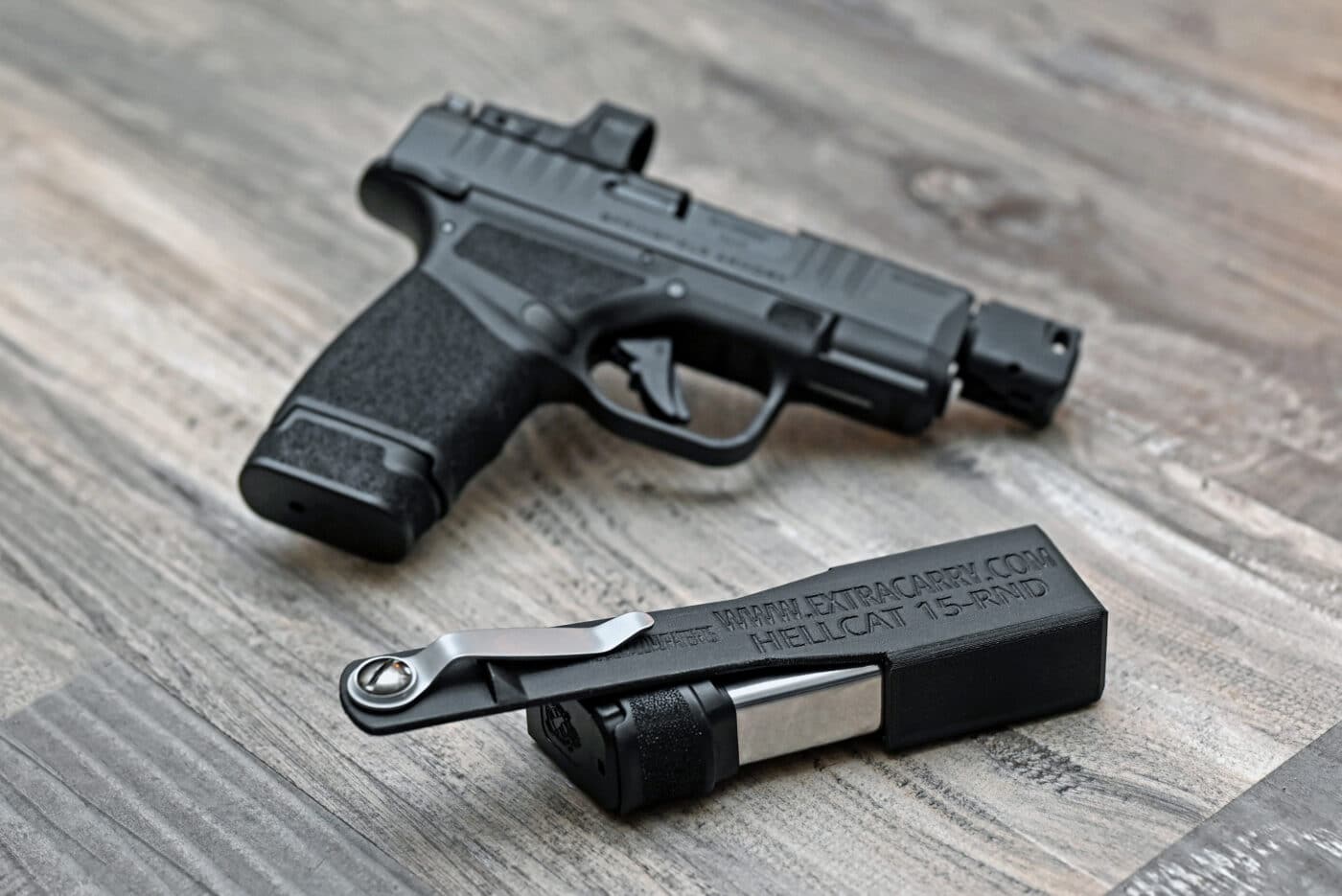 The company tells me that they will also have the Universal Fit Pouches available very soon for other calibers as well. If you are looking for an amazing solution to the challenges of carrying an extra magazine look no further than ExtraCarry. All the pouches are made right here in the U.S. and are only $55 each.
Editor's Note: Please be sure to check out The Armory Life Forum, where you can comment about our daily articles, as well as just talk guns and gear.