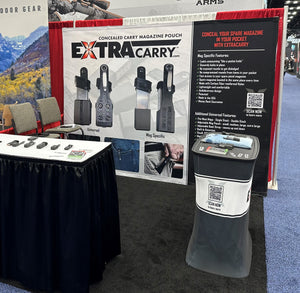 We had a great time at the 2023 NRA Show. The response to the ExtraCarry Mag pouch product was overwhelming. Some much so that we sold out out of many mag specific SKU's the first day. Thanks to everyone that stopped by the booth to see the latest concealed carry mag pouches from ExtraCarry. Read more about the show.   The ExtraCarry Universal Pistol Magazine Holder provides superior convenience and performance. Its adjustable straps and adjustable compartments make it compatible with all standard and compact sized pistol magazines. Lightweight and secure, it ensures your pistol magazines are always quickly available.
---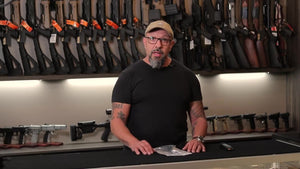 About Ray: Mr Ray Mancini is an internationally known trainer, and professional security consultant. He is an expert in the fields of CPP-Close Personal Protection, CQC-Close Quart Combat, Firearms & Tactics Instructor, K9 Security Training Specialist, Risk Assessment, Risk Management and Crime Loss Prevention.
---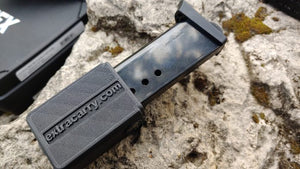 by Travis Pike Carrying a spare magazine isn't tough, but it's not always easy, especially when it comes to concealed carry. Carrying a spare might not always be necessary, but when you need a spare, you really need a spare. One of the better ways to carry a spare magazine is to toss it in your pocket. The ExtraCarry mag pouch is a new kind of pocket carry design. They produce a universal 9mm magazine pouch that drops into your pocket without much of a fight.  The ExtraCarry – A New Kind of Pocket Carry  There are tons of different...
---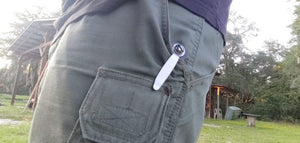 by Travis Pike   Carrying a spare magazine isn't tough to do, but it can be cumbersome at times. Sometimes the traditional belt-mounted solution is impossible due to how you are dressed. IWB options exist, but I get tired of dealing with an IWB holster, so I don't want an IWB mag pouch. There are numerous in-the-pocket options on the market, and I've experimented and enjoyed a few. The head honcho at ExtraCarry got in touch and asked if I wanted to give their concealed pocket mag pouch a spin. I'm always interested in new means of carry and also...
---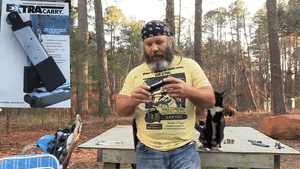 Hunter Elliott - RangeHot.com A few months ago, I got the Extra Carry concealed carry magazine pouch for review. It was so simple I was disappointed in myself for not thinking of it. With the single clip, the Extra Carry is held securely in your pocket yet looks like a multi-tool or small pocket knife, so it does not scream GUN, which is good. I have been using it for the past few months, and it has worked exactly as it should. Of course, Extra Carry has many different configurations for whichever pistol you carry. It is a great idea...