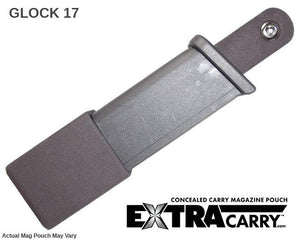 Glock Mag Pouches & Holders- Concealed Carry Solutions - Pocket Carry
Regular price
$ 55.00
$ 0.00
Unit price
per
Glock Mag Pouches & Magazine Holders from ExtraCarry™ Concealed carry pistol magazine pouch for your pocket:
(Magazine Not Included)
---
Best Selection of Glock Mag Pouches for your spare Glock Mags.
Carrying your spare Glock magazines lose in your pants pocket. Industry Experts say that is not a good idea. ExtraCarry may be able to help. We offer a full line-up of pocket carry magazine holders for most Glock Magazines designed and  all the popular pistols magazine needing a way to carry a spare mag concealed.

More that 125 mag specific pocket carry mag pouches are available. We also offer a Universal version that will work for all most all 9mm magazines, single or double stack. If we don't have it we will make it for you.
---
The ExtraCarry™ Concealed carry pistol magazine pouch:
Glock Magazine Pouches & Mag Holders
Made with Carbon Fiber Reinforced Nylon
Carry your spare magazine concealed in your pocket
Looks unassuming "like a pocket knife"
Securely locks in place with our patented locking system
No exposed rounds to get dislodged or compromised by items in your pocket
Light weight and comfortable
Ambidextrous design
Fast access to your spare pistol magazine
Spare magazine located in the same place every time
Patent Pending and Made in the USA
ExtraCarry™ - Concealed Carry Mag Pouch

Order With Confidence - 100% Money Back Guarantee

(less shipping)
Glock 17 Mag, Glock 19 Mag, Glock 21 Mag, Glock 22 Mag, Glock 23 Mag, Glock 26 Mag, Glock 27 Mag, Glock 30 Mag, Glock 33 Mag, Glock 36, Glock 42 Mag, Glock 43 Mag, Glock 43X Mag, Glock 48 Mag
OUR GUARANTEE
At ExtraCarry, we strive to offer the best rated and highest-quality products in the world.
Your Satisfaction is our Top Priority. "Old School Customer Service" is what we offer. 100% Customer satisfaction is our goal with absolutely Zero Customer Risk.
A partial list of the Mag Specific Concealed Carry Mag Pouches from ExtraCarry:
M&P Shield Plus 9mm, Springfield 911 380, Colt 1911's (7, 8 and 10 round), Beretta 85 and 86, Beretta Nano, Beretta Pico, Beretta PX4 Storm, Beretta APX, Bersa Thunder, Bond Arms Bullpup, Colt Government 380, Colt Mustang 380, CZ-USA 75,CZ-USA P10C, CZ-USA 75 compact, FNS 40 Compact, Glock 17/22, Glock 19/23, Glock 21, Glock 26/27/33, Glock 30, Glock 32, Glock 36, Glock 42, Glock 43, Glock 43x, Glock 48, HK P30, KAHR 380, KAHR PM 9, Kahr MK 9, Kahr CM 9, Kahr CW 9, Kahr PM 40, Keltec 3AT, Keltec PF 9, Kimber Micro, Kimber 1911, Mossberg MC1sc, Remington 1911, Remington RM390, Ruger LCP and LCPII, Ruger SR 9, Ruger SR1911, Ruger lcp, Ruger LC9, S&W M&P, M&P Shield 40 and 9mm, S&W M&P Bodyguard 380, S&W Shield, M&P Shield, M&P Shield Shield, Bodyguard 380, Sig Sauer P226, Sig P229, Sig P238, Sig P250, Sig P365, Springfield XD and Springfield XD(m) 45 and 9mm, Springfield 1911, Springfield Hellcat 9mm, Springfield XD 9, Springfield XD-S 45, Springfield xds, Steyer S9, Taurus PT111, Taurus PT709, Walther CCP, PPK 380 and the PPS M2 We offer over 125 mag specific version the the ExtraCarry Mag Pouch
choosing a selection results in a full page refresh
Opens in a new window.
Opens external website in a new window.