News — Custom ExtraCarry Mag Pouches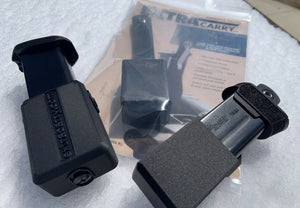 I recently spoke with Rick, the designer, and owner of a company called ExtraCarry. He asked me to take a look at a couple of their products. Specifically, he wanted some feedback on their different magazine pouches designed for concealed carriers who carry a spare magazine in their pocket. ExtraCarry offers two versions of their magazine carrier. I was familiar with the NeoMag and Snag Mag, similar products designed with the same purpose. As I noted in this review, each product has some advantages and disadvantages, which I did some time ago. However, ExtraCarry was a product I had not...
---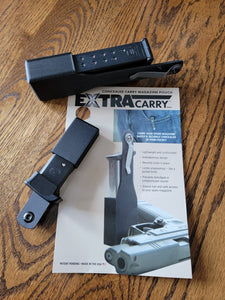 Looking for a quick and easy way to carry a spare pistol magazine? Well the ExtraCarry Mag Pouches are a great option for the conceal carrier. I got a chance to test out the ExtraCarry Mag Pouches and here is how they performed. THE CLASSIC WOODSMAN To test out how well the ExtraCarry Mag Pouches worked I was sent out one mag holder for the bigger size, Glock 21, and also a smaller size, the Ruger LCP Pistol. This allows me to see the differences on how they both carry and perform in the field and in town. THE CLASSIC...
---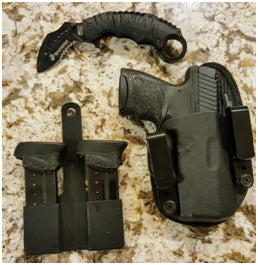 We recently started getting requests for custom versions of the ExtraCarry Mag Pouch. So if it's possible we would be happy to accommodate your needs.
Below is a review from one happy customer along with some photos of his custom ExtraCarry Mag Pouch for his Walther PPS.
The final product is simple and functional, and I couldn't be happier!
I purposely pulled the mag low to give more of a top down view, the giant end of the PPS mag is completely concealed.
This is the double mag in a loose fitting pair of jeans. The print pattern is very cell phone like. It does take up the whole pocket but I'm ok with that. The mags are easy to get to and very easy to draw. They stay secure no matter the activity. All in all I couldn't be happier with both the finished product and Rick's communication throughout the process.