News — Springfield XDS 9mm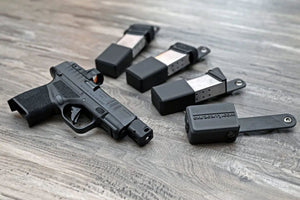 Post: How Do I Carry Spare Ammo for My Hellcat? Specialized Mag Pouches
Link: How Do I Carry Spare Ammo for My Hellcat? Specialized Mag Pouches
Author: By Andy Grossman
Concealed carrying daily requires preparation, planning, and a few compromises. One of those challenges is what size gun you can carry. I know I want to have as many rounds as possible to help ensure victory if I ever find myself in an unavoidable fight for my life.
Sure, my full-size XD-M Elite will hold 22+1 rounds, but it's big and therefore more tough to carry and keep concealed. So normally I grab my Hellcat instead. It's small and compact and still can carry 16 rounds with the 15-round magazine and one in the chamber. Still, is 16 rounds enough? Hell, is 23 rounds even enough?
---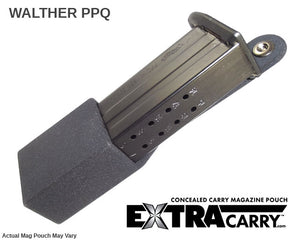 The newly released Walther PPQ ExtraCarryTM  Mag Pouch, is the best way to carry your spare ammo concealed. It is lightweight and ambidextrous. Just slide it into any pocket and it looks unassuming just like any pocket knife with a pants clip.  The ExtraCarryTM Mag Pouch securely locks into your pocket with its patent pending integrated clip. Your spare magazine is well hidden and rapidly available when you need it. You Tube Product Video: ExtraCarry Mag Pouch Website: www.extracarry.com
---
More Great Feedback from our customers. Springfield XDs 9mm - Concealed Carry Magazine Pouch -  receives a 5 star review. Title: Finally a Magazine Pouch I'll actually carry Rating: 5 stars Author: Bryan S. I've had my Concealed Carry Magazine Pouch for several weeks now, and I carry it almost every day. It holds my XDs 9mm magazine securely in my pocket and is easy to put on and take off when I need to. Even better the closed bottom acts as a dust and debris cover, keeping all the pocket lint, etc. from clogging up my magazine, and thus...